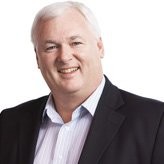 David is Chairman of the Board at Cryoserver and Solar Archive. The business is owned privately by three individuals and he owns the largest and controlling stake. He's also Non-Executive Chairman of the Board of SDL plc, a public quoted, UK-headquartered language technology, translation and content management business. SDL is a global company with offices in 40 countries and 4,500 employees.
When I was an equity analyst at Credit Suisse in the 90s there was a very clear bifurcation in terms of market value between publicly-quoted software companies and IT Services companies.
Whilst Software companies would trade on sales multiples of 3-6 times, IT services companies would be lucky to achieve a sales multiple of 2 times. This was largely a function of two factors: profitability and recurring revenue.

Where value lay
Software companies were able to achieve EBIT margins in excess of 30%. They also benefitted from very secure support and maintenance revenues.
On the other hand, IT Services companies would do well to achieve double digit EBIT margins and would have to win each new contract from scratch.
Whilst it was often the case that the most embedded customer relationships lay with the IT Services provider, the market saw greatest value in the Intellectual Property owning Softwar

Where value now lies
Roll the clock forward twenty years and many things have changed. The impact of Software as a Service has supercharged those software companies capable of delivering single instance, multi-tenant solutions to enterprise customers.
Those businesses such as Salesforce.com and Workday are the product of the new millennium. They often trade on sales multiples in excess of 10 times. 
Enterprise software companies that are stuck in the perpetual licence fee world are now trading on multiples of 2 or 3 times recurring revenue. This is because the value is perceived to lie in their installed base, which is declining faster than they are able to acquire new customers.
There's been just as much change in the world of service delivery. This market has segmented into software implementation businesses, hosting businesses, managed service providers and managed security service provider.

Services growing in value
The speed at which the corporate world is migrating its infrastructure to the cloud has offered very significant growth opportunities for service companies. Many of those providers, such as Rackspace, Claranet, Interserve, Symantec and Trustwave, have been able to deliver revenue growth in the high teens and been valued by the market accordingly.
Analysts are increasingly valuing the ability to deliver complete solutions to customers above the ownership of intellectual property. They see particular value in the established customer relationships and in the strength of the services sales model. This is because customers want to outsource responsibility for delivery to a services partner, rather than to the IP owner. From a customer's perspective, they are far more in the business of contracting with solution providers, rather than product companies.
Of course, to be credible as a solution provider, the services company has to be able to demonstrate the appropriate product knowledge and delivery capability. Also, to be credible, the services company needs to specialise, whether that is within a particular solution category or vertical market segment.
In my next post, I'll tell you why I think service providers will be better off partnering with product developers rather than buying or building. Stay tuned for next week.